Greece Open Water Swim Camp 2018
October 6th-11th 2018

Home of the Oceanman Greece Ocean Race: https://www.facebook.com/OceanmanGreece and in partnership with WayOut Adventures https://www.wayoutadventures.gr/en, join TI Master Coach Tracey Baumann and her highly experienced team of Total Immersion Coaches at our Open Water Camp in the crystal clear waters of Limeni, Greece.
Escape the hustle and bustle of everyday life to immerse yourself in the Mediterranean Sea and our proven swimming methodology. With plenty of time to truly imprint the skills you learn and then try them out on the daily afternoon swims, this really is a magnificent adventure. You may even see a Turtle or two during your stay and we make sure you have plenty of opportunity to relax, enjoy the sunshine and even explore the area.
Our partners, WayOut Adventures, will be on hand to provide 'on the ground' & 'water' support during the week. Safety is of paramount importance at all times and WayOut Adventures are there to ensure that everyone's needs are met.

Who Should Attend?
This Open Water Camp is designed for all swimmers. We aim to tailor the week to accommodate those who are new to open water swimming and those who are seasoned swimmers looking to swim longer distances. Unfortunately, we are not able to cater for complete non-swimmers or water phobics on this camp.
Accommodation: The Limeni Village Hotel
Located in one of the prettiest and most traditional villages in the area, The Limeni Village is a unique hotel, built of stone and wood and consisting of 16 towers that have been transformed into rooms.The minimal Mani decoration is impressive with marble or tiled floors promising you a pleasant stay with beautiful views across the bay. The Limeni Village Hotel stands out for its friendly service and professionalism at all times. https://limenivillage.gr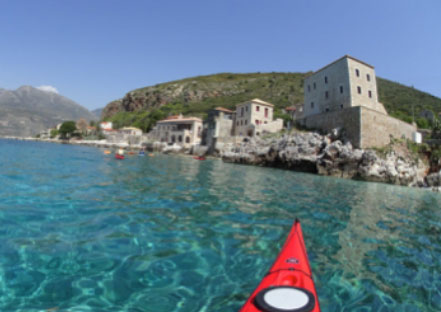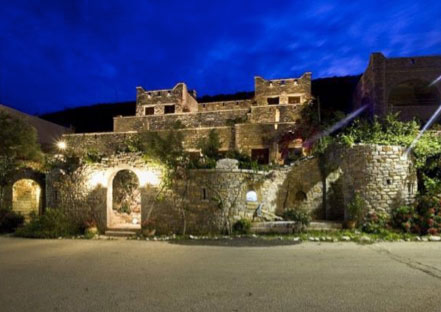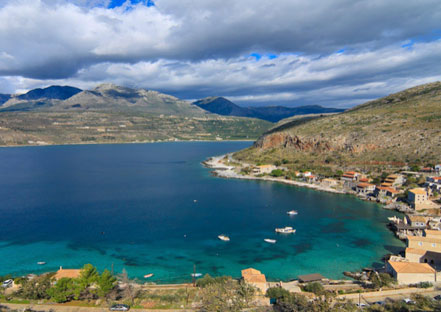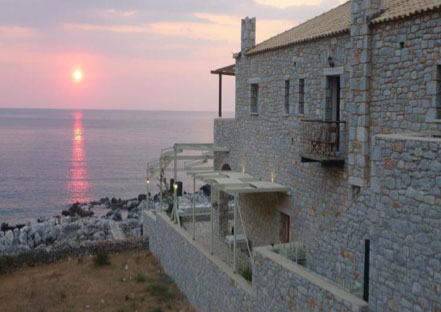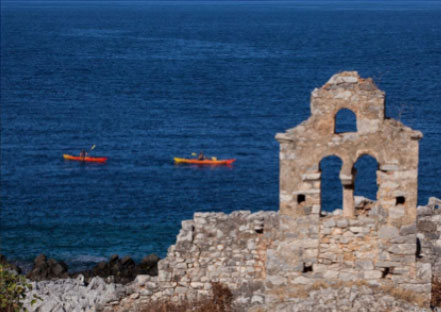 Itinerary

Day 1
Private transfer from Kalamata airport to the hotel and check in
Afternoon swim session (2 hours)
Dinner & return to the hotel for a good night's sleep
Day 2
Morning swim session (2 hours)
Relax & light lunch
Afternoon swim session (2 hours)
Dinner & return to the hotel
Day 3
Morning swim session (2 hours)
Relax & light lunch
Afternoon swim session (2 hours)
Dinner & return to the hotel
Day 4
Day cruise in nearby bays
Morning swim session (2 hours)
Relax & light lunch on board the boat
Afternoon swim session (2 hours)
Dinner & return to Hotel(s)
Day 5
Day cruise in nearby bays
Morning swim session (2 hours)
Lunch at your leisure
 Afternoon swim session (2 hours)
Dinner & return to Hotel(s)
Day 6
Morning swim session (2 hours)
Departures
What is included
Private transfers to and from Kalamata airport
5 nights' bed and breakfast accommodation at The Limeni Village Hotel
Dinner at nearby restaurants (excluding drinks)
1 Day cruise (lunch provided on board)
A minimum of 20 hours of the latest Total Immersion swim coaching
What is not included
Prices
£1190 per SwimSolutionS alumni swimmer
£445 per companion (shared room)
Booking
To book your place, please send a deposit of £200 via BACS to
Tracey Baumann
Account number 11401068
Sort Code – 30-94-42
Swift Code LOYDGB2L
IBAN
Flights
Proposed Flights from United Kingdom
London to Gatwick to Kalamata – Saturday 6th Oct
EZY8381
Departure: 05:40
Arrival: 11:15
Fares: Adult – £47.91
Kalamata to London to Gatwick – Thursday 11th Oct
EZY8382
Departure: 12:00
Arrival: 13:45
Fares: Adult – £95.93