Swim Studio lessons take place in the ONLY
Total Immersion SWIM STUDIO IN SURREY
SwimSolutionS Studio lessons offer a level of expert tuition and stroke analysis technology rarely found in the UK.
 Lessons are held in a PRIVATE endless pool
 SwimPro – State of the art videoing equipment
(used by Australian Olympic Swim Team)
 Private One to One or Two to One tuition
 Dedicated training with a fully qualified Total Immersion coach
 Multiple video cameras for ongoing video analysis and
instant feedback
 All files will be uploaded to your own USB
for continued learning
 Floor mirrors allow you to check positions, posture,
alignment and movement patterns
 A relaxed atmosphere
 Comfortable shower and changing facilities
 Swim continuously at a pace suited to you
 Swim current adjustable from zero to race pace!
Directions
By Road:   SwimSolutionS is in Englefield Green, just 4 miles from Junction 13 of the M25, at the beginning of Wick Lane, just off Bishopsgate Road.
From the Runnymead Roundabout, passing Burger King on your left, take the A30/Egham Bypass to the next roundabout and turn right up Tite Hill. At the T-junction with Middle Hill turn right. You will quickly come to a mini roundabout. Take another right onto the A238, then immediately take a left at the next mini roundabout on to Bishopsgate Road. Follow Bishopsgate round until you meet Wick Lane and turn left. SwimSolutionS is 50 metres on your right from the junction where Bishopsgate Road meets Wick Lane. You will see a gap in the hedgerow in to the Mews, signed Dell Park Farm,  and parking is directly in front of you as you enter.  SwimSolutions is the first unit on your right as you drive in.  Click here to view in Google Maps: https://goo.gl/maps/gJjncWutQTLTYwmA
By train/tube:   The nearest station is Egham which is on the Waterloo line and journey time is approximately 40 minutes. You will need to take a Taxi from the Station to SwimSolutionS which is approx 2.4 miles away. The National Rail on-line timetable will help you plan your journey to or from any UK destination   www.tfl.gov.uk/tfl
By Air:     The nearest airport is Heathrow which is only 7 miles away.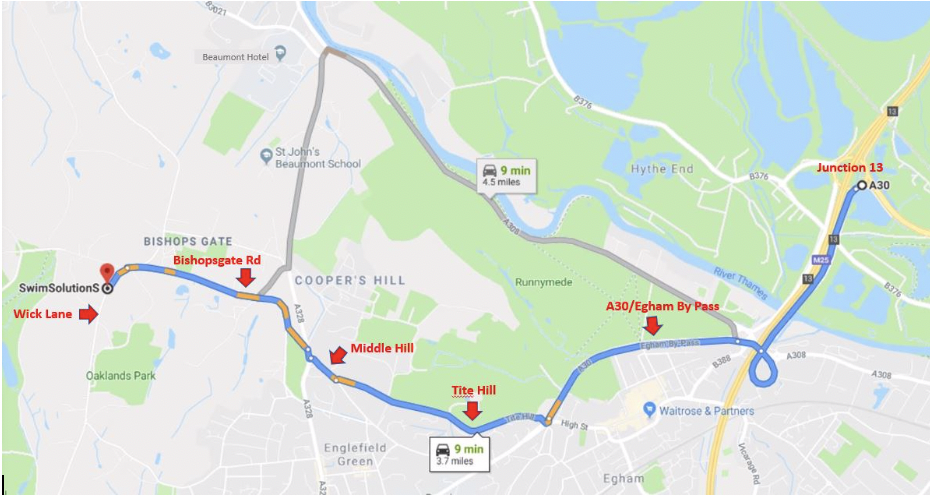 Day

Daytime

Evening

Monday
9am – 5pm
5.30pm – 9pm
Tuesday
9am – 5pm
5.30pm – 9.30pm
Wednesday
9am – 2pm
4.30pm – 9.30pm
Thursday
10am – 2pm
4.30pm – 9pm
Friday
 9am – 5pm
CLOSED
Saturday *
9am – 1pm
1pm – 4pm
Sunday *
10am – 4pm
CLOSED

* Please note that we sometimes have to coach at Total Immersion weekend workshops and therefore there is always the possibility of us having to cancel at late notice. We will always try and give as much notice as possible.
One to One Tuition
With

TI Certified Coaches

 (Beginner to Advanced) start from
Initial Assessment (90mins)
£105 - £115

Video analysis plus lesson

Email for more information, stating your preferred time of day/days of week to be sent next available slots.
1 hour coaching session
£75-£85
Beginners Package
£540-£620

8 x 1hr in the Endless Pool
Improver Package
£350-£400

5 x 1hr in the Endless Pool
Childrens Package
£320

10 x 30mins in the Endless Pool
Prepaid block sessions
£650-£780
TWO TO ONE TUITION WITH 

TI Certified Coaches 

(INTERMEDIATE TO ADVANCED) start from
Initial Assessment
£120 -£140

 90mins assessment in endless pool
1 hour coaching session
£110 - £120
Improver Package
£480 - £550

5 x 1hr in the Endless Pool
Prepaid block sessions
£880 - £980

10 x 1hr in the Endless Pool